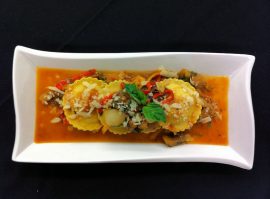 Sweet Corn/Polenta Ravioli
Sweet Corn/Polenta Ravioli with summer tomato ratatouille topped with the fine olive oil.
If you want to create this yourself:
Sweet Corn/Polenta Ravioli
Ingredients
6 Sweet Corn/Polenta Ravioli
6 each pearl onion peeled/split
2 cloves garlic smashed/chopped
4 oz. medium diced eggplant
3 oz. tiny sweet peppers peeled/seeded and diced
4 oz. medium diced skinned/seeded fresh tomato
4 oz. chicken or vegetable stock (reserve ½ if needed)
2 T chiffon aide basil
3 T Parmesan Reggiano
¼ cup olive oil
Salt and pepper
Preparation Instructions:
1.     Sweat onion and garlic in 1 T olive oil for 5-7 min.
2.    Add eggplant, peppers, and tomatoes, sweat an additional 5-7 min.
3.    Add 2 oz. of stock and bring to a simmer until vegetables are tender. Use remaining stock if needed to thin sauce for desired consistency.
4.    In a pot of salted/boiling water, cook ravioli for 5-7 min, strain and add to eggplant ragu.
5.    Add basil, salt and pepper to taste and finish with olive oil.
Bon Appetit!
Related posts